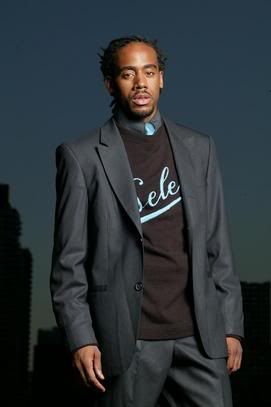 Ok ok, this is not another raving fanatic post about my
unconditional love
for Jeff Johnson. (yes it is, but it's merited!)
YOU ALL NEED TO REALIZE THAT I MAY VERY WELL MEET HIM!!!!!!!!!!
Yes, you read it correctly. In addition...
I'M GETTING HIS AUTOGRAPH IN THE MAIL IN THE NEXT FEW DAYS.
I can't even explain how all of this happened, how who
knows
who, who just happens to
know
HIM. All I know is I can't *breathe* I mean literally CANNOT BREATHE. There's not enough O2 in the stratosphere right now that can support the EBULLIENCE oozing out of my system right now.
My sister. Oh my gosh, I guess the aphorisms praising those who
give and are gracious
are true.
I've held my tongue, covered for her, taken care of her child like she was my own (my niece calls me 'mommy' A LOT and it disturbs me) and my constant push for her to become a better person overall = is paying off.
SHE IS THE ONE MAKING THIS HAPPEN.
HAHAHAHAHAHAHAAAA!!! [/ lunatic laugh]
I'm going to meet my prototype

.
Ok, nothing's final yet but still. HE KNOWS WHERE I LIVE! lol.
He knows who I am! He's SEEN my picture! Any of y'all seen the boho pic of me with the headwrap and the angle of the pic is kinda at the side and it's in a sepia hue? No? Well boo on you. You can catch it
here
. Anyway yeah, he's seen that one IN COLOUR. Bwahahaha, none of you suckas have seen it in colour! Or ALL of it either, cuz I cropped it. HE HAS.
*using asthma inhaler*
I can't even feel my fingers type! I have an essay to do too, and I'm pretty much drunk off of excitement right now. I can't sleep! This is insane. All of this happened within a few HOURS!
Anyway, THIS IS THE KICKER:
Dude is gonna read my WRITING! AHHHHHHHHHH!!!!!
Oh.my.goodness.
And if anyone knows me, y'all know my writing is MY SOUL. *dreamy eyed*
He's gonna read my soul.
(Ok, I'm gonna pass out.)
Amazing how things change in ONE day. Moment to moment...
B"H.

Shalom, chaverim and Oyasumi nasai.
Hebrew and Japanese Words of the Day:


Ne'eman

(ne-'e-MAHN) adj. Trustworthy; reliable; faithful.
Christine



(in Kanji means the following):
Eternal Reason Protection Wisdom Elegance
(You are an elegant princess, with a mind quick to reason, in whose wisdom is eternal protection.)
They *must* have had me in mind.
Current e-Motions:
!!!!!!!!!!!!!!!!!!!!!!!!!!!!!!!!!!!!!!!!!!!
Wikked Riddims:
Bell Orchestre - Recording a Tape the Colour of Light - "Throw It On a Fire"